14 hours and 40 minutes.
That's the average daily media consumption in Latin America—the highest in the world, according to a recent GWI survey. In addition, Latin America tops the charts for internet usage: the average Brazilian spends more than 10 hours a day online (three hours longer than the global average). And 88 percent of Latin American internet users use social media, compared to 73 percent in North America.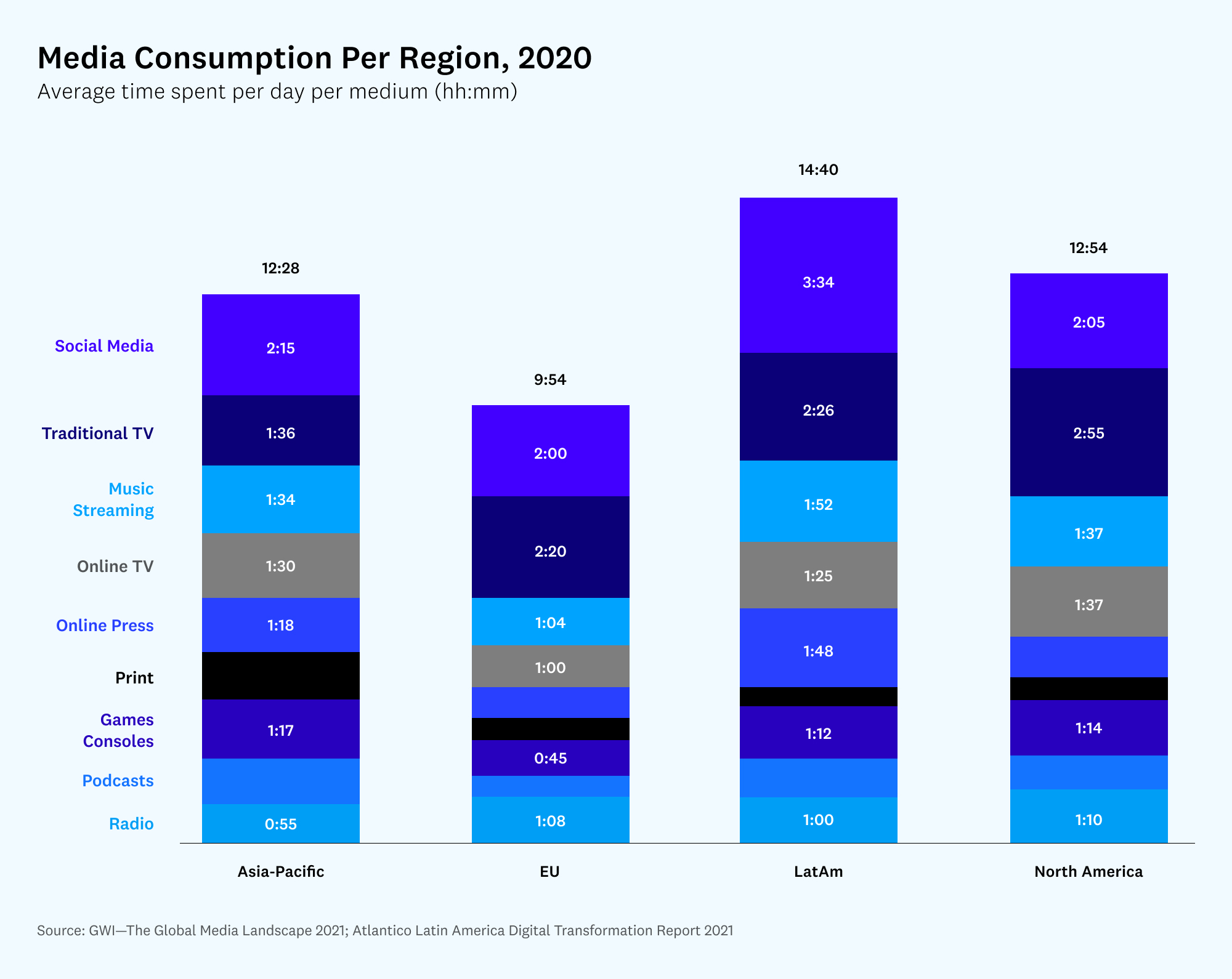 It should come as no surprise, then, that independent creators and influencers have become a major force in Latin America. One out of three internet users in the region follows an influencer, and more than 40 percent of Brazilians report having purchased a product because a creator recommended it.
Yet despite leading the world in internet and digital media consumption, the creator economy—the ability for independent creators to make money off their skills or followings online—is latent in Latin America. Simply put, it's still surprisingly difficult for creators in the region to translate their influence into cash. In a recent survey of more than 5,000 creators in Brazil, half made less than $100 per month, and nearly a quarter of them didn't monetize at all.
This curious dichotomy—exorbitant media consumption, underdeveloped creator economy—has many factors, some of them historic and economic. But an examination of Latin American's media and influencer landscape today reveals new opportunities for Latin America creators to catch up with their global counterparts. Novel models such as building digitally native brands and fusing content with business can propel the Latin American creator economy into the future.
Historical and market barriers to creator monetization
Latin America currently has the lowest digital ad spend in the world, according to eMarketer. Despite commanding more attention for many years, digital ad spending only just surpassed traditional television in Brazil last year.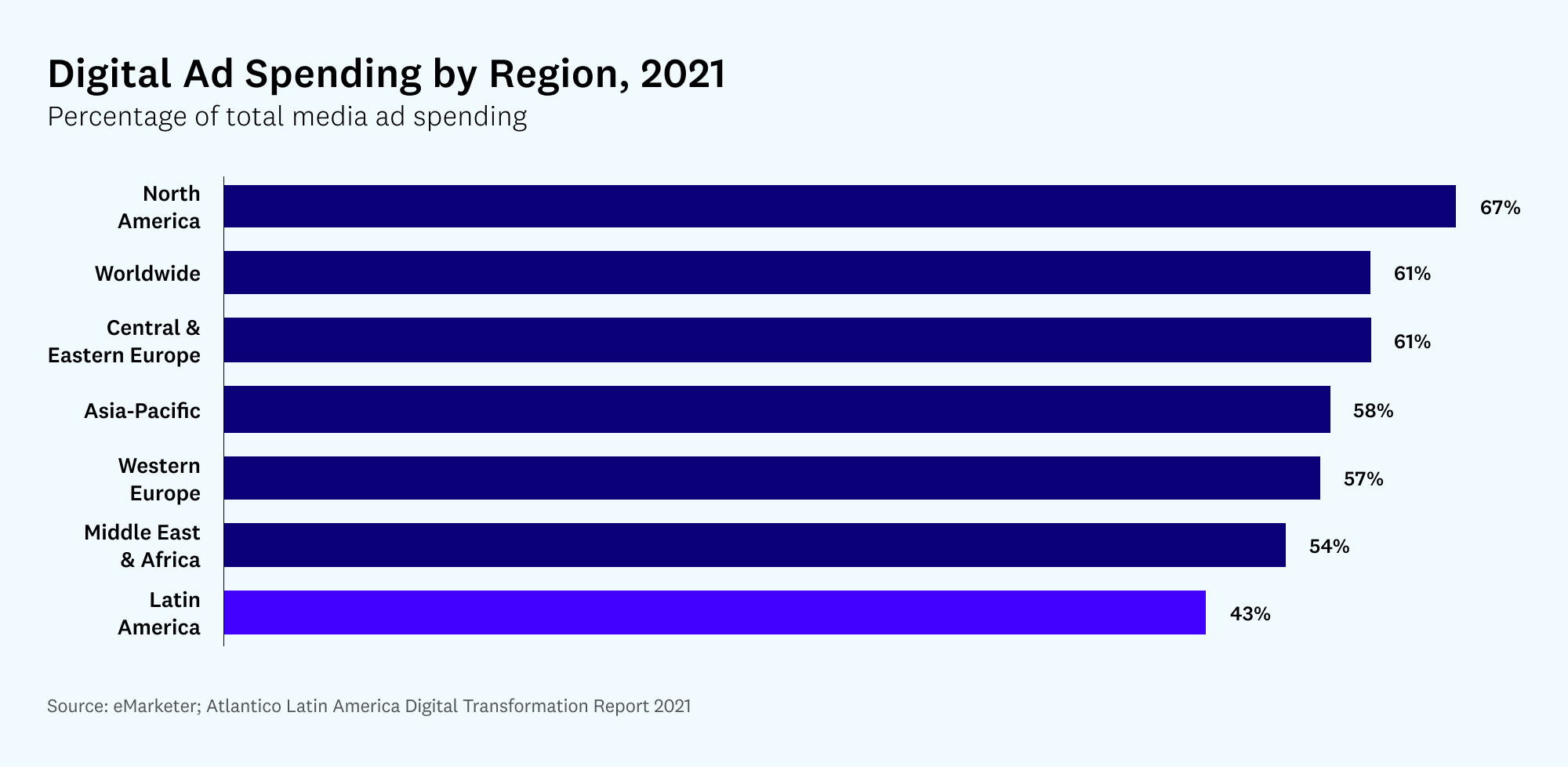 Several factors contribute to this lag:
Smaller markets, smaller budgets
Total media ad spend in Latin America is significantly lower than elsewhere in the world—just $21 billion in 2020 (one-tenth that of North America). Given the comparatively smaller local economy, there are simply fewer ad buyers in Latin America than in the U.S., meaning there is less total demand for advertising, according to Sergio Marques, former CFO of Latin America's largest mass media company, Globo Group. In fact, when considering total media ad spend as a percentage of GDP, Latin America is only slightly ahead of the Middle East and Africa, and still about one-third the levels of North America and Asia.
In addition, a country like Brazil has a much higher television audience concentration—there, the audience for the daily soap opera rivals the Super Bowl. Thus, when a single ad buy can reach an advertiser's full demographic target, the television market can be comparatively efficient.
Agency dependence on media and production incentives
Structural practices in the way advertising agencies interact with and are compensated by media companies are another big inhibitor in the migration of ad budgets from offline to online. Many large media companies in Latin America offer a "bonus for volume" (BV), a financial incentive paid to advertising agencies purchasing media space. Since many ad agencies are financed by the BV, that greatly affects the development of the sector. (More recently, this practice, which has also been adopted by some tech companies, is the subject of legal injunctions by Brazil's national competition and antitrust regulator.)
This legacy model not only misaligns agency incentives around digital advertising, but also holds back creator monetization. Agencies often demand significant retainers to keep ad production teams at the ready. But when partnering with independent digital creators, production requirements plummet, which calls that traditional model into question.
When advertisers understand that creators can funnel their ad-production costs exclusively toward content distribution, we should see ad budgets migrate to the creator economy. Companies such as Squid and BR Media Group in Brazil, for example, have made significant inroads in this space. Squid has become a leading influencer and online community marketing company in Brazil by connecting creators with paid brand campaigns, while BR Media Group helps brands execute influencer campaigns. 
The nascent and amateur creator market
The final factor holding creators back from monetizing their influence is that structurally, the market is still in its infancy, lacking standardization in product, pricing, and terms. The most common monetization source for Latin American creators is still sponsored content, which is a homemade version of the traditional product placement agreement. 
There's also an open opportunity to build dedicated creator tools. Hundreds of creators we surveyed last year cited difficulty in the production and administrative demands of content creation. Pricing and contracting are also major friction points, alongside tech platforms' shifting rules and algorithms.
In some ways, the rapid growth of Latin America's large creator base is also its challenge: everyone wants to be an influencer. In part, this gold-rush phenomenon has caused a fragmentation of revenues, shrinking paychecks for any single creator.
The tipping point for Latin America's creator economy
As attention and influence rapidly shift from traditional media to independent creators, advertising budgets are sure to follow. And as tech platforms enable creators to standardize and professionalize their relationships with fans, followers, and patrons, pesos and reais will flow into this new economy. The question is not if, but when.
But shifting ad budgets are only the tip of the iceberg. Novel, integrated business models will lead to a new crop of companies that merge media with product and monetization.
Digitally native brands in emerging markets
In Latin America, ecommerce sales grew by 63 percent in 2020. Ecommerce is expected to represent nearly 11 percent of the region's total retail sales this year.
Local digitally native brands are merging the power of ecommerce with the influence of a rising creator economy—a phenomenon largely inspired by Chinese companies. TikTok already reaches one out of three Brazilians on a monthly basis, and Shopee, the Singaporean ecommerce giant, rivals local players like B2W and Magalu in app downloads. 
One such approach to brand-building has been harnessing the power of an online community to co-create products and brands, then soliciting input and feedback from followers to define product features. For instance, Sallve, a Brazilian beauty brand targeted at millennials and Gen Z, used this strategy to build a product portfolio that is aligned with its community's needs. The company, often described as a hybrid between China's Yatsen and the U.S.-based Glossier, counts the popular beauty influencer Julia Petit among its founding team. By leveraging Petit's Instagram and YouTube channels, Sallve attracts a highly engaged fan and customer base that actively participates in the co-creation of its products.
Similarly, tying a brand to a particular influencer is another path to success for digital brands. This model is now obvious in the U.S., from Kylie Cosmetics and Rihanna's Fenty in the beauty space to Jessica Alba's Honest Company and Gwyneth Paltrow's Goop. In Brazil, one notable example is ByNV, a fashion brand started by the influencer Nati Vozza, which was acquired last year by Grupo SOMA (one of Brazil's largest fashion conglomerates). According to data from Grupo SOMA's public filings, the creator brand already accounts for 10 percent of the company's revenues, despite that only two percent of Grupo SOMA's physical stores are ByNV stores.
Fusing content and business
New digital brands put content front and center, blurring the line between a media property and a transactional site. These companies often leverage differentiated content, either created by their community or an in-house editorial team, to organically attract and retain audiences and seamlessly lead them down a transactional funnel to do everything from buy a gift to trade stock. 
In Brazil, one such company, Festalab, married a content creation and communication platform around social events (think Paperless Post and WeddingWire) with an ecommerce product centered on wedding registries (like Zola). The company has 10,000 weddings registered on its platform every month with no investment in paid acquisition, driving organic growth solely through user-created content. 
Independent creators have also turned finance into a popular (and lucrative) category, sharing daily stock tips and market outlooks via newsletters and videos on social media. On Instagram, for example, one-third of Brazilians follow finance influencers. Grupo Universa built a two-pronged monetization engine in the space, and was snapped up by BTG Pactual, Latin America's largest investment bank. Universa was the result of the merger of independent investment content company Empiricus, which had amassed over 400,000 paying subscribers, and Vitreo, one of the largest independent online investment platforms. While competitors have engaged in a fierce battle for paid customer acquisition, Vitreo enjoyed its top position with minimal marketing spend, growing almost exclusively from the integrated cross-promotion via Empiricus' newsletter and content.
As digital creator content becomes a cornerstone of Latin American media consumption, commanding ever more attention and influence, the region is approaching an inflection point. Immense value stands to be created in the creator economy, not only via an influx of ad dollars, but also through the rise of innovative new companies that seamlessly integrate media and monetization. 
This article is adapted from research in Atlantico's Latin America Digital Transformation Report. 
Thanks to Sergio Marques, founder of Crivo Ventures and the former CFO of Globo Group; Ricardo Dias, founder of Adventures and former VP of Marketing of Ambev; Felipe Oliva, founder of Squid; and Pedro Tourinho, founder of MAP and Soko, for their input. Disclosures: Atlantico is an investor in Sallve and Festalab.
Views expressed in "posts" (including articles, podcasts, videos, and social media) are those of the individuals quoted therein and are not necessarily the views of AH Capital Management, L.L.C. ("a16z") or its respective affiliates. Certain information contained in here has been obtained from third-party sources, including from portfolio companies of funds managed by a16z. While taken from sources believed to be reliable, a16z has not independently verified such information and makes no representations about the enduring accuracy of the information or its appropriateness for a given situation.
This content is provided for informational purposes only, and should not be relied upon as legal, business, investment, or tax advice. You should consult your own advisers as to those matters. References to any securities or digital assets are for illustrative purposes only, and do not constitute an investment recommendation or offer to provide investment advisory services. Furthermore, this content is not directed at nor intended for use by any investors or prospective investors, and may not under any circumstances be relied upon when making a decision to invest in any fund managed by a16z. (An offering to invest in an a16z fund will be made only by the private placement memorandum, subscription agreement, and other relevant documentation of any such fund and should be read in their entirety.) Any investments or portfolio companies mentioned, referred to, or described are not representative of all investments in vehicles managed by a16z, and there can be no assurance that the investments will be profitable or that other investments made in the future will have similar characteristics or results. A list of investments made by funds managed by Andreessen Horowitz (excluding investments for which the issuer has not provided permission for a16z to disclose publicly as well as unannounced investments in publicly traded digital assets) is available at https://a16z.com/investments/.
Charts and graphs provided within are for informational purposes solely and should not be relied upon when making any investment decision. Past performance is not indicative of future results. The content speaks only as of the date indicated. Any projections, estimates, forecasts, targets, prospects, and/or opinions expressed in these materials are subject to change without notice and may differ or be contrary to opinions expressed by others. Please see https://a16z.com/disclosures for additional important information.