Increasingly, building a successful startup involves not only building a product that people can't get enough of, but also building an engaged, loyal community around that product. Today, most founders are acutely aware of the value of community. In CMX's 2021 Community Industry Report, 86% of respondents (community managers from 508 different companies) said community was critical to their company's mission, and more than two-thirds said their company planned to increase their investment in community in the next year.
But while many founders are eager to invest in community, they often don't know what they'll need to understand to build one the right way. Between starting and running Zyper, a platform that connected brands with super-fans, and now leading community growth strategy at Discord, I've built hundreds of healthy communities for businesses, brands, and creators. Before diving in and hiring a dedicated community team, I've learned, founders need to have a strong grasp of two essential concepts: 1) the community quadrant (to understand how community differs from other groups of people who interact with a product), and 2) the community funnel (to understand what makes a community compelling to prospective members). 
To that end, I've put together a guide that breaks down both concepts. It doesn't cover everything you need to know to build a successful community. Instead, it's intended to teach early-stage founders just enough to begin allocating resources.
What a community is (and isn't)
One common misconception, I've noticed, is the idea that "community" and "customers" are synonymous terms. They aren't. Understanding how they differ is critical, so let's start there.
The people who interact with your product generally fall into one of four buckets: 
Customers/users

buy and/or use your product. 

Evangelists

tell everyone they know to buy or use your product because they genuinely love it.

Community

is the group of people who've found belonging and utility through your product. 

Ambassadors

are incentivized, through payments or rewards, to promote your product. 
What distinguishes community members from those in other groups is the congregation element: Beyond using, liking, or writing glowing reviews of your product, they spend time forming connections with other people based on a shared affinity for it. 
The quadrant, sequenced  
Three of these groups reliably emerge in a fixed order: Users/customers come first, followed by evangelists, and then community.
Ambassadors don't fit neatly into this sequence, so you'll need to make a decision about their relationship to the other three groups. Even though ambassador endorsements aren't organic, they still help spread awareness of your product to new segments and markets. Ambassadors range from nano-influencers and affiliates to well-known celebrities, and they can collectively become a community in their own right, with gamified rankings and events. Generally speaking, my advice is to build an ambassador program that functions separately from the other three groups. This article covers the basics.
The ideal time to launch a community varies, but you should wait until you have confirmed evangelists. People who love your product are your proof point. If self-professed evangelists haven't announced themselves yet, email a group of your earliest customers (50 is enough) to find out if they love your product. Those who respond enthusiastically are your first evangelists; invite them to join your community. Evangelists don't automatically become community members, but they're the most obvious cohort to start with because you know that they like your product and want to talk about it. 
Next, start a conversation with this founding group in a private space designed for that purpose, such as a Discord server, a Slack channel, a Telegram chat, or even a group DM on Instagram. Some community platforms are designed to be versatile while others are geared toward specific populations. Geneva, for example, is a private group-chat app gaining traction among businesses with female customer bases.
One thing you shouldn't do is waste engineering resources on building out your own community infrastructure. At this stage, third-party community platforms will meet all your technical needs. Plus, your target community members might already use them. Meeting people where they are never hurts.
The early days of community-building should feel like user research. You're not trying to build an audience or sustain engagement. Instead, you're experimenting with different offerings to figure out what your evangelists want. Audio? AMAs? IRL meet-ups? Ask them directly. Not only will you learn what they find valuable, you'll also give them a sense of belonging.
The specific offerings that appeal to evangelists vary by community. For example, members of Scream Movies on Discord — a community for super-fans of the franchise — get exclusive access to events like director AMAs. That's a big deal if you're a Ghostface diehard.
But AMAs might not be such an effective way to generate interest in every community. Take the SBUX Hub on Discord, an unofficial Starbucks community for baristas and fans alike. Perks of membership include behind-the-counter secrets and access to off-menu recipes. Here, learning about seasonal Frappuccino flavors months before they're announced might drum up more excitement than, say, joining an AMA with Howard Schultz.  
Once you have a handle on the quadrant, the second concept to master is the community funnel.
The community funnel: invited —> invested
Communities are primarily valuable to businesses for two reasons:
They create a built-in source of real-time user feedback, which is critical for building a product people really want.  

They foster friendships rooted in an affinity for your product, which drives lifetime value and new customer referrals.
When it comes to community-building, it's your job to spark the fire. But you can't keep it burning alone. The key to a thriving community is members who care enough to take initiative — they pose thoughtful questions to the group, introduce new topics to explore, and sometimes even plan events, online or off, to help people bond. And they're invested enough in the community to assume some of the responsibility of steering it forward. Early on, think about identifying folks you'd like to see take on more responsibility.
But new community members don't magically turn into devotees. You need to set the stage for that to happen — both by letting early members play a role in shaping and growing the community, and also by creating an environment compelling enough to reel in anyone who enters. The community funnel charts a prospective member's path from receiving an invitation to becoming an invested, active member. It's important to think about your role in moving members through the funnel.
One priority should be optimizing introductions: A member's first few interactions with the community can have an outsized influence on whether or not they stick around. Consider those early experiences through the eyes of a new member:
Is the initial invitation compelling? Does it spark excitement or curiosity, or make prospective members feel special? On Geneva, invites are often hard to find, which makes them fun to discover. This also gives new members something to bond over right away.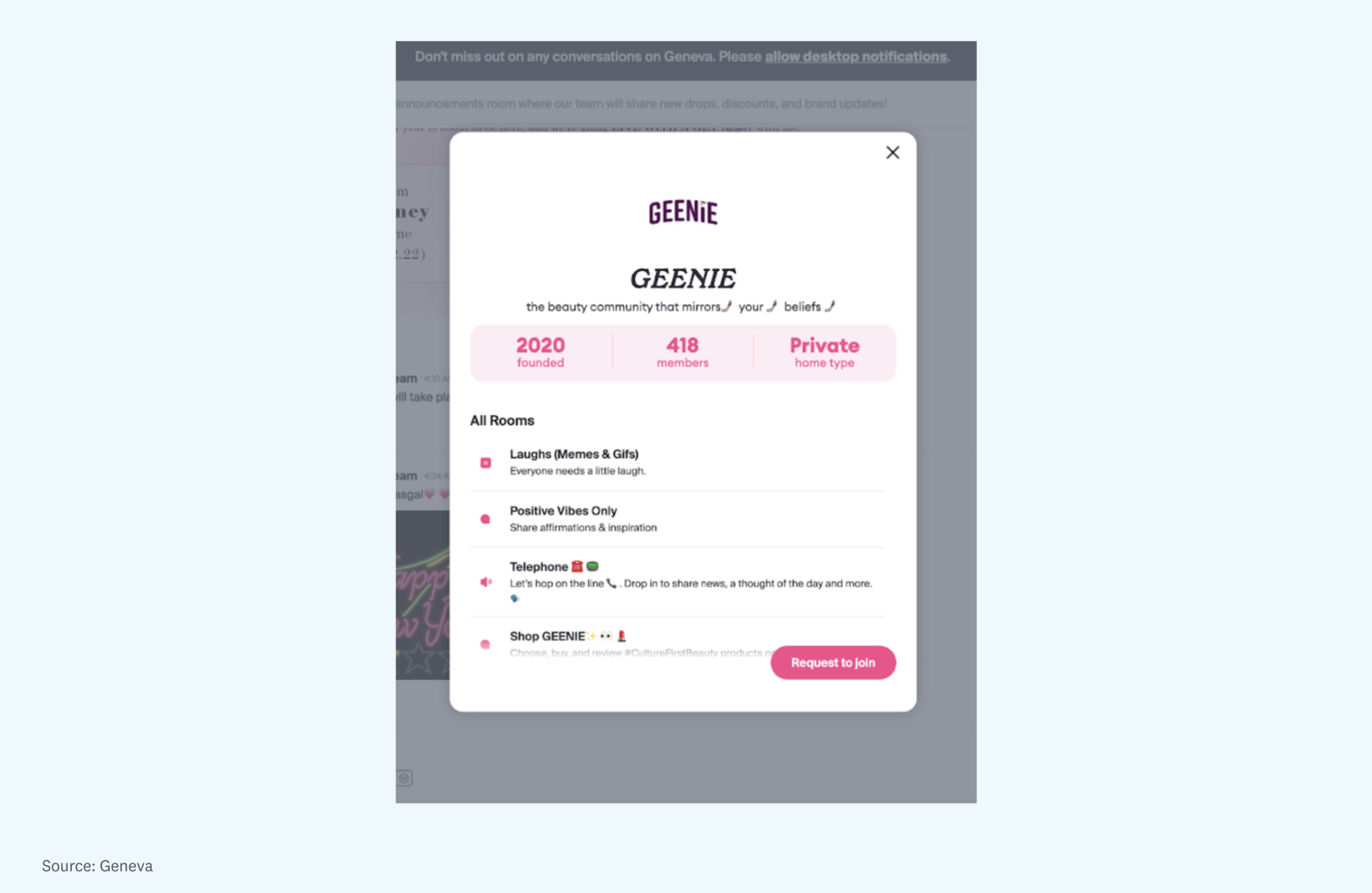 Do members land in space that's easy to understand and navigate, and also fun to spend time in? Simply numbering channels and visually laying out the first steps a new member should take is a low-lift way to guide people through the on-boarding experience. Extra points if the space is beautifully designed. User-friendly design makes the Discord server for crypto collective Orange DAO inviting to first-timers:
The ultra-simple layout of Telegram channels, which only have one central chat, makes the platform a low-friction way to get a community going. Here's what new members see upon joining Poolsuite's chat:
Are members individually welcomed into the space by a human (rather than a bot) and introduced into the conversation? Stripe's developer community on Discord exemplifies digital hospitality with an active developer relations team welcoming new members:
Once introduced, do community members feel compelled to participate in the conversation? Participation primes members to become friends, which makes them feel more deeply tied to the community and motivated to contribute to it regularly. Most people who join your community will be evangelists for your product. By the time they reach the end of the funnel, they'll (also) be evangelists for your community.
Now that you understand these two foundational community-building concepts, it's time to begin architecting your community strategy. Start by clearly articulating why you're building the community and what the value exchange will be. In other words, what will community members gain from joining and participating, and how does it help your business (now and down the road) to devote resources to community that could go elsewhere? 
The value of community isn't always easy to quantify financially, but there are benefits beyond the bottom line. If you get the basics down and approach community-building thoughtfully, your company will become a catalyst for strong relationships that grow alongside it.